048 (210528) Disputation: Emma-Lina Löflund försvarar sin avhandling
EVENEMANG
Datum:
28 maj 2021 15:00
-
28 maj 2021 19:00
Plats:
Zoom (länk: se nedan)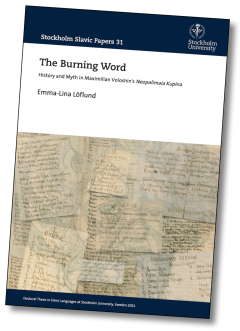 Emma-Lina Löflund försvarar sin avhandling "The Burning Word: History and Myth in Maximilian Voloshin's Neopalimaia Kupina"
Handledare: Prof. Anna Ljunggren och Docent Julie Hansen
Opponent: Prof. Olga Peters Hasty (Princeton University, USA)
Disputationen sker digitalt via Zoom. Registrera dig och anslut här ==>>
----
Efter disputationen är alla välkomna till mingel i detta Zoom-rum ==>
----
Abstract
The book Neopalimaia Kupina: stikhi o voine i revoliutsii (The Burning Bush: Poems about War and Revolution) by Maximilian Voloshin (1877–1932) depicts the revolutionary period in Russia. This dissertation analyzes the work's composition, showing how it was shaped and reshaped in response to the dramatic events of the first two and a half decades of the twentieth century, and how it remains open and mirrors the ongoing development of history. The revolutionary events are presented against the background of earlier turning points in Russia's past. In addition to documenting contemporary events in poetry, Voloshin, who was closely affiliated with the Russian Symbolists and had a profound interest in anthroposophy and occultism, expressed a belief in theurgic art that could initiate a national revival.
The analysis demonstrates that the poems in Neopalimaia Kupina are interconnected through a conglomeration of myths centering on transformation through death and resurrection. The poems also evoke a sense of recurrence connecting different layers of Russian history. By depicting episodes from a mythical as well as a historical perspective, the poems reflect correspondences which can be elucidated through Boris Uspensky's semiotic model of a dual perception of time (linear and cyclical) as well as Zara Mints' concept of neomythological texts. The analysis also considers performativity as a tool for life-creation in Voloshin's work and connects it to his exploration of apotropaic genres: magic spells, incantations, prayers, and anthroposophical mantras.
Against the backdrop of the Bolshevik takeover and the remolding of Russian society which was marked by war, terror and famine, these poems express a disbelief in the Communist utopia of the early Soviet period.